Blelight Traction Machine --WYT-T TYPE-EXAMINATION CERTIFICATE OF SPECIAL EQUIPMENT
20-05-2019
WYT-T series outer rotor PMS machine is Bluelight's most popular product. After 10 years of continuous improvement, this series product has high quality standard, with superior performance, and can cover wide range of elevator application. It is your first choice for high perfor- mance elevator.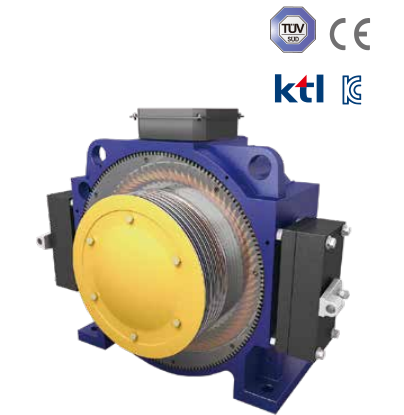 Parameter of Traction Machine
Voltage:AC380V
Roping:2:1
Wrap: Single
Capacity :450kg~2500kg
Speed:0.5m/s~3.0m/s
Protection Grade:IP41
Ins. Class:F
Traction machine pole:
Shaft Load 2500kg~3500kg:20
Shaft Load 5500kg~7500kg:30
Stars per hour:240
Rating:S5-40%
Height:
Shaft Load 2500kg~3500kg≤90m
Shaft Load 5500kg~7500kg≤120m
Features
Optimized mechanical structure design, high shaft load, high operating safety factor;
High efficiency, high torque density design and optimized pole slot coordination;
Machine run smoothly, with low noise & small vibration;
This series covers wide range of elevator speed & capacity.
Use block type armless brake, it has fast response time &high reliability.
Parameter of Brake
Model :BLB Ins.Class :F Voltage :DC110V
Current:

Please see the link about WYT-T TYPE-EXAMINATION CERTIFICATE OF SPECIAL EQUIPMENT

WYT-T 电梯曳引机英文证书 2500kg 2018AF1309_enzs.pdf